The night before my first mud run, "Austin Outlaw Dash" I wanted to take it easy but things were very stressful. So instead of resting, I went for a run. It was just a little over 2 miles and just enough to clear my mind. I asked Drew one final time if he was taking me to my race and he assured me he would. So I made us dinner. Drew's a carnivore so his plate looked nothing like mine.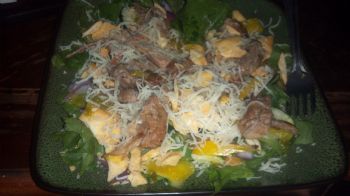 We woke up in the morning and Drew told me he decided he wanted to run it with me. WHATTTT! No way, Drew who never works out and smokes a pack a day wants to run with me. Okay, I tell him but it's gonna be hard. We leave the house early because I wanted to stop and get some pre race fuel.
Red Bull, we split a blueberry muffin and a protein bar. Right before we pulled up to the race location Drew had to have his dessert....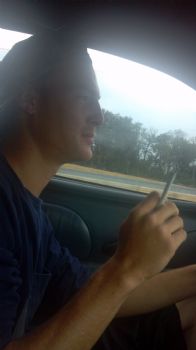 And yes, he really did smoke a cigarette right before running.
We started out running at a faster speed than what I'm used to because as Drew said, "We're not letting anyone pass us." And pretty much the whole race we didn't let anyone pass us. Drew was in that "I'm a MAN" mood. So we were truckin it through the course and completing the obstacles flawlessly. The best part of the mud run was running chest deep through the river, crawling through the mud pit, and then crawling through dry dirt. We were completely covered in mud.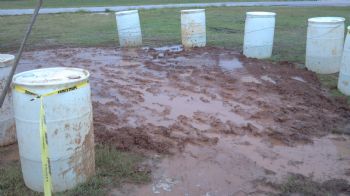 Luckily the mud pit and everything was at the end of the race so we didn't have to run with the extra weight of the mud. At the end of the race we asked around to see what time we had finished but no one really knew. I guess we had to wait until the end. So we stayed around and enjoyed our free bbq and beer. Finally they announced times and winners.
I can proudly say that I won my first race medal!!! AHHHH! how exciting. I got 2nd in my age group 20-29 females Drewd great too. He got 4th in the male category 20-29 and he didn't even practice!! WOW!! So I went up to get my first ever race medal. My time for the obstacle/mud run 5k 34:20!!! YAY!!! Since the title of the mud run was the "Outlaw Dash" they stayed with the theme when choosing our medals. It's kind of a rustic medal ornament that you might hang in your yard. *I have a plastic bag over mine in the below picture*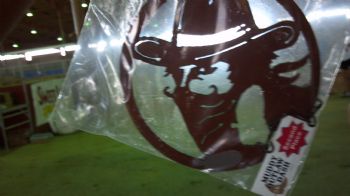 Not only did I place 2nd in my age group, I came in 5th overall female!!!